Strategic Planning
Strategic Planning at the University of Mississippi assists in the advancement of the University's objectives by providing leadership and guidance in areas of strategic importance. We coordinate integrated planning at the university, division, and unit levels, and support the university leadership in the implementation and monitoring of university-wide goals and initiatives. In addition, we provide strategic planning services to the university community.
University Planning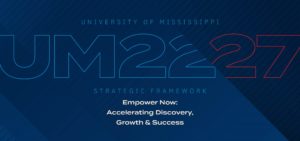 Since the University of Mississippi began in 1848, careful planning has been a part of the culture of Ole Miss as it has sought to adapt its services to the changing needs of the people of Mississippi and our nation. The history of UM strategic planning demonstrates comprehensive planning efforts over time.
Empower Now: Accelerating Discovery, Growth, and Success was introduced in Spring 2022 and will launch in Fall 2022 as the new strategic plan of the University of Mississippi.  Empower Now will succeed Flagship Forward as the institutional strategic plan.  Empower Now builds upon the work of previous strategic plans, incorporates key institutional priorities and stakeholder perspectives, and provides a unifying framework with a foundational commitment to equity.